Donate Life West Virginia: Community Night at Wendy's
Donate Life West Virginia: Community Night at Wendy's
September 15, 2015

5:00 pm
Nicole Moore was an organ donor. Her organs saved several lives. Would you do the same?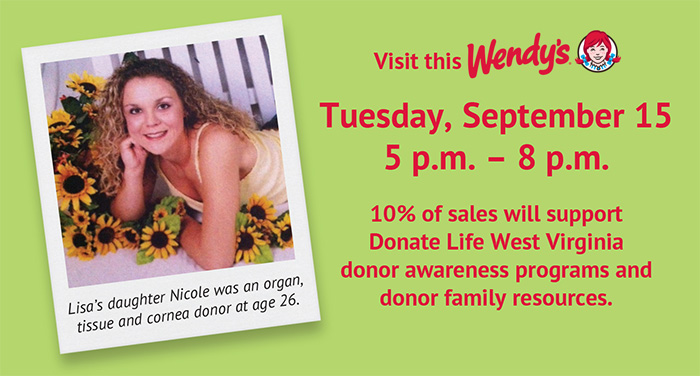 More than 500 West Virginians are on the waiting list to receive a transplant and a second chance at life.
Many lives have been touched by organ, tissue and cornea donation, like donor mom Lisa Johnson, manager of Wendy's in Ripley. Help spread the word about the lives saved and enhanced through donation.
Visit the following West Virginia and Ohio-based Wendy's on Tuesday, September 15 from 5 p.m. - 8 p.m., where 10% of sales will support Donate Life West Virginia donor awareness programs and donor family resources.
West Virginia:

Mineral Wells, WV (84 Elizabeth Pike)
New Martinsville, WV (380 North SR 2)
Parkersburg, WV (3800 Emerson Ave.)
Parkersburg, WV (2602 Gihon Rd.)
Parkersburg, WV (1603 7th St.)
Ravenswood, WV (401 Washington Street)
Ripley, WV (623 West Main Street)
Spencer, WV (Main Street)
St. Mary's, WV (914 2nd Street)
Vienna, WV (2201 Grand Central Ave.)

Ohio:

Belpre, OH (1215 Washington Blvd.)
Marietta, OH (105 Pike Street)
Marietta, OH (283 Muskingum Dr.)
New Lexington, OH (560 Carroll St.)
Pomeroy, OH (550 East Main St.)
Sign up to be a donor today! It only takes 30 seconds. Visit https://donatelife.wv.gov