Organ Donor Advocate Joy Starzl Continues Dr. Starzl's Legacy of Saving Lives
Wife of pioneering transplant surgeon teams with CORE to encourage organ donation
PITTSBURGH, Oct. 5, 2018 – As a pioneering transplant surgeon, the late Dr. Thomas Starzl saved countless lives. Today, his wife and organ donor advocate, Joy Starzl, continues his legacy by collaborating with the Center for Organ Recovery & Education (CORE) to encourage people to be a hero and register as an organ donor.
Ms. Starzl's passionate support for organ donation is one of several poignant 30- and 60-second vignettes that will begin airing on Pittsburgh-area television and radio outlets this week. Additionally, billboards, transit shelters and other out-of-home channels will be part of the campaign.
"This is about saving lives," said Ms. Starzl. "This is about sharing love and spreading love. Tom always said his patients were his heroes."
"Organ donors are heroes; heroes to the recipients who receive life-saving transplants; heroes to the 115,000 people who are waiting for their second chance at life; heroes to their own families, who find comfort and healing in the meaningful legacy that donation offers," said Susan Stuart, president and CEO, CORE. "This new campaign honors organ donors as heroes and hopefully encourages others to follow the example these heroes have set by registering as organ, tissue and cornea donors."
Others included in this year's campaign are both organ transplant recipients and donor families whose loved ones said yes to donation.
Thanks to an organ donor, 15-year-old Faith Kilkeary, of Wexford, Pennsylvania, received a life-saving heart transplant after being diagnosed with hypoplastic left heart syndrome as a baby. Her life was transformed.
"I can ride roller coasters," she said. "I can dance. I can run. I can do anything I set my heart to."
After a tragic drowning accident, Anna Oldham's young son, Jason, became a hero as an organ donor, saving three lives. "Our family's life was turned upside down," said Ms. Oldham of Bedford, Pennsylvania. "He loved playing outdoors. He was just an all-around active, energetic 7-year-old. I know that he is still someone else's savior. He is somebody else's hero."
Ines Brady's husband, Michael, was only 60 when he collapsed and died at the dining room table. That night, he made good on a commitment he'd made years before.
"We had lost our friend and we went to the funeral home and got these green bracelets and Donate Life pins," said Ms. Brady. "My husband put that green bracelet on and never took it off — like never took it off.  Being an organ donor, it's a legacy that you leave for your loved ones. It's not only for the people that need your organs. It has become a legacy of my husband's. It was his last gift, and it's continuing to give."
Each donor can save up to eight lives through organ donation and improve the lives of nearly 75 people through cornea and tissue donation. Nearly 115,000 people are on the national transplant waiting list.
# # #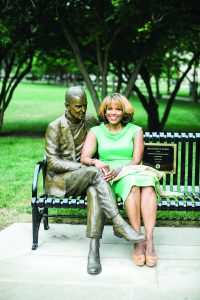 Joy Starzl
About CORE
The Center for Organ Recovery & Education (CORE) is one of 58 federally designated not-for-profit organ procurement organizations (OPOs) in the United States. CORE works closely with donor families and designated healthcare professionals to deliver the gift of hope by coordinating the surgical recovery of organs, tissues and corneas for transplantation. CORE also facilitates the computerized matching of donated organs, tissues and corneas. With headquarters in Pittsburgh and an office in Charleston, West Virginia, CORE oversees a region that encompasses 150 hospitals and more than 5 million people throughout western Pennsylvania, West Virginia and Chemung County, NY. For more information, visit core.org or call 1-800-DONORS-7.