Susan A. Stuart
President & CEO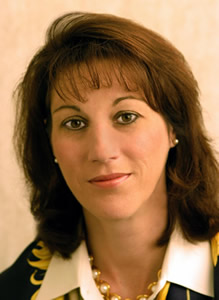 Susan A. Stuart began her career in healthcare as a registered nurse, working in the trauma ICU at Allegheny General Hospital. It was here that she witnessed first-hand the comfort that donation offers donor families and the second chance at life that it offers recipients. In fact, Susan was so moved by the work CORE was doing on behalf of donor families and recipients that she left AGH and took a job as an organ and tissue procurement coordinator with CORE.
Over the next decade, Susan rose to the level of assistant executive director at CORE before becoming director of clinical operations at the University of Pittsburgh Medical Center (UPMC) in 1999. At UPMC, she oversaw the clinical operations of 150 critical care beds, and managed daily operations for UPMC's respiratory care and renal dialysis departments.
In 2004, Susan returned to CORE to assume the lead role as president and CEO. Today, she's honored to lead a staff of more than one hundred employees who, like herself, believe that donation is the right choice for every grieving family as well as for the recipients who receive those precious gifts of life.
Susan currently serves on several boards of directors, which include Donate Life America and the United Network for Organ Sharing (UNOS). Susan is the past president of the Association of Organ Procurement Organizations (AOPO), which represents more than 50 federally-designated organ procurement organizations (OPOs) across the country. She most recently served as the president for the 2013-14 term.
In 2016, Susan completed the year-long Baldrige Executive Fellows Program — nationally recognized as one of the top continuing education programs in leadership development worldwide.
She is active in many community activities, including volunteering with the Salvation Army, being a member of the Fox Chapel Rotary, serving as an honorary member of the Team Alleghenies Transplant team for the Transplant Games of America, and raising awareness for autism. Along with the CORE staff, she has participated in United Way's Days of Caring.
Susan holds a bachelor's degree in nursing from Duquesne University and a master's degree in public management from Carnegie Mellon University.